In just about any town in America, the surest sign of Christmas approaching is when the light pole decorations go up. For many main street retailers, downtown shops and other businesses it is the true launch of the Christmas shopping season. eDecorSource offers a large selection of commercial pole mounted Christmas decorations to allow your town, township, city or village to decorate for the season with reasonable cost and maximum decoration. We have a wide variety of pole mounted decorations that will beautify your streets, put visitors and shoppers in a holiday mood and kick-off the holiday season. If you have any questions don't hesitate to contact us or if you use a RFP/RFQ process check out our commercial decor quoted project support page.
Pole mounted decorations are designed to be mounted to a street lamp/light or other street-side light or power pole. Our pole mounted Christmas and holiday decorations include a variety of holiday themes and styles. From garland to silhouette we have you covered. All of our Christmas and holiday decor are designed to last for years and given the proper care.
Pole Mounted Christmas Decorations

Most decorations available with LED or traditional lighting

Most decorations include mounting hardware

Many decorations are available in a variety of sizes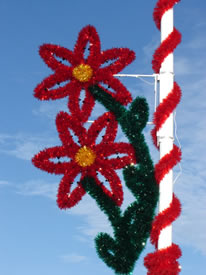 Supplying decorations for commercial, municipal and large residential decorating and holiday beautification projects; eDecorSource.com represents the largest manufacturers of quality banners, Christmas decorations and holiday lighting products in the country.
In addition to pole mounted decorations we have a large selection of decorations that include:
Light Pole Banners - Banners for all seasons, spring - summer - winter - fall, and of course for the holidays. Many of our banners are available with your custom imprint, logo or message.
Lamp Post Banners - Smaller format banners designed for shorter or traditional style lampposts. You will find a wide selection with many of the same features as our larger banners.
Holiday Light Displays - Silhouette holiday light displays and yard decorations, 100's of Christmas and holiday themed items.
Looking to dress up your pole mounted banners or give your banners that extra touch at Christmas? Check out our new lite pole banner enhancers.
For information on our other products and services, including enclosed mall holiday decorations, light show events, kiosks and retail merchandising units, visit our design division web site, www.bradyandartists.com.