What "makes" a main street, town square or shopping center? -- its simple, first impressions. Light pole banners are the first things to greet you when you pull into almost any shopping center, stroll through a town square or turn onto main street. In many respects they set the tone and turn the humdrum into something special, unique and worth the time and effort to visit.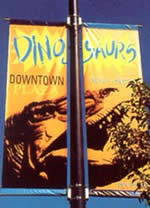 Make your property or streets stand out with the vibrant colors used in our brilliant light pole banner designs! Whether printed 4-Color Process on 18oz. Block Out Cast Vinyl with UV Inks or Marine Acrylic with Heat Sealed Plastisol Inks, these banners will catch everyone's attention!

Many double designs, which are printed back to back on one piece of material, can be used as a single light pole banner and alternated front and back on the lamp poles for a more interesting display.

Stock light pole banners come in many sizes:


Some designs can finish from 84" up to 96" - your choice!
Not all designs are available in all sizes. Please see individual banner description for sizes. Of course, we can always customize a stock design to fit your needs!
Personalize Your Light Pole Banners
Many of our property and street banner designs can be personalized with your custom imprint, logo or message. You can select the type style and choose the ink color. Please contact us for pricing and find out more on our custom displays and banners page.

Junior Stock Lamp Post Banners
These light pole banners were developed to meet the growing demand for stock banners that can ship quickly and fit the various sizes needed for the newer decorative, small-profile light poles, lamp posts and street lamps. Junior banners are the perfect solution with finishing sizes beginning at 17" wide and 36" in length. Banners can finish from 36" up to 45" in half-inch increments to fit any bracket system with arms that will not adjust! Contact us for more details.
Christmas - Holiday - Seasonal Light Pole Banners

:

Name a holiday or season and we have a banner for it! Explore our selection of seasonal light pole banners to find the right ones to decorate your property or street.

Supplying decorations for commercial, municipal and large residential decorating and holiday beautification projects; eDecorSource.com represents the largest manufacturers of quality banners, Christmas decorations and holiday lighting products in the country.

For information on our other products and services, including enclosed mall holiday decorations, light show events, kiosks and retail merchandising units, visit our design division web site, www.bradyandartists.com.